Transforming GTM: How Ready Education Achieved Record Q1 Results with Value-Based Sales and Customer Success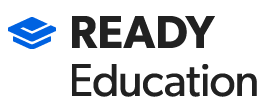 "
Our work with Winalytics shifted the mentality of our whole go-to-market team.  The old focus had been 'getting to a product demo.'  The new focus for sales and customer success conversations is to understand how our product can make our buyers and customers more successful.  We want to start by understanding their key goals for student success and then point our product against those areas with the highest potential for impact
."
Engagement Highlights
Shifted the go-to-market team from a focus on leading with product to a focus on anchoring on buyer-defined goals and impacts

Seven months into partnership, Ready Education had its best Q1 in the company's history in Q1 2021

The focus on qualifying to buyer value in sales and customer success conversations  contributed to a 200% increase in total closed business in Q1 2021 compared to Q1 2020

The focus on value-driven prospecting and selling lead to 100% increase in new dollars in the sale funnel and a sales cycle time decrease of 40%
Challenge
Ready Education is a student experience platform trusted by 300+ higher education institutions in the US and Canada.   Ready's mobile-based platform helps to build student engagement and drive retention gains by creating a single campus voice to students across all communications platforms.   This single voice makes it possible to personalize student engagement with "right message to the right student at the right time" and build a deeper sense of student to student connection and community.
Despite a clear ROI case for the Ready Education platform connected to increasing student retention, buyer conversations too often were being led with product and product pitching.  The sales team member's goal too often was to get to a demo of the product and then focused on a deep dive on product functionality.  Similarly, the student success team centered its post-sale account management processes on technical implementation, product training and product questions.  There was a gap in connecting these conversations back to the initial campus goals for student engagement and retention.  Without connecting back to student success goals it was easy to lose engagement from VP-level decision-makers on campus.  Without senior decision-maker engagement it became harder to set up cross-sell and expansion opportunities that increased the overall value of the partnership for the campus and Ready Education.
Solution
Ready Education's new CEO recognized the need to shift the sales and customer success teams work from a focus on product to a focus on engaging buyers and customers around their student engagement goals.   He engaged Winalytics to support this transition.  The engagement began with development of value narratives playbook that make it possible to anchor the entire buyer and customer journey on key student engagement and student success goals across.  The engagement continued with the development of team-specific playbooks for sales, customer success, and prospecting to bring these value narratives into all buyer and customer interactions.
Ready's CEO also encouraged his go-to-market team to fully participate and embrace Winalytics, hand-ons collaborative approach.  This approach focused on team learning sessions to identify and share team best practices as well as , one-on-one coaching to build individual skills   The Ready Education -Winalytics sessions began as joint learning sessions across sales, marketing, and customer success teams as part of the effort to build a connected, authentic buyer journey anchored on putting buyer goals first and product second.  About three months into the engagement, team sessions moved toward building out team-level playbooks and processes for the sales, customer success and the SDR teams.
Results
The engagement started in August of 2021.  After seven months of work together, Ready Education had its best Q1 in the company's history,  experiencing significant, across the board performance gains Q1 2021 compared to Q1 2020.   Total closed business in Q1 2021 was up over 200% from Q1 2020.  The sales team improved its sales cycle times significantly with the timeframe on new SQOs moving to closed won or lost dropping by 40% from the year previously.  New dollars in the sales funnel increased by 100% from 12 months before as value-driven prospecting and account expansion took hold.   The customer success team aligned its goal discovery approach used by the sales team to increase the number of upsell and expansion opportunities coming out of account review calls.