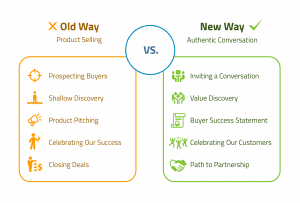 The 2010s saw a dramatic decline in sales reps on quote, as well as sales VP tenures. And, the decline in sales performance during that time is no coincidence.
Three-quarters of sales and go-to-market (GTM) teams are stuck in product pitching, convinced that sharing more product information is better.
Meanwhile, buyers and customers have moved in a different direction.
Three-quarters only want to engage with teams who understand and speak to their individual business' goals and needs.
To be successful in the new buyer environment, sales and go-to-market leadership need to shift from the old way of product-driven selling to a new way of authentic conversations.
Product-driven selling focuses on the company, the company's product, and its successes.
Authentic conversations focus on the buyer, the buyer's why, and helping the buyer to see a more successful future.
Here are 5 key skill shifts from the old to the new way:
✔️ Rather than prospect buyers, invite a conversation
✔️ Rather than shallow discovery, do deep discovery to find a buyer success statement
✔️ Rather than pitching your product, map your product to your buyer's success
✔️ Rather than celebrate your company success, celebrate your customers' successes
✔️ Rather than closing deals, build a path to partnership
The right mix of authentic conversation skills vary for BDR/SDR, sales, account management, and customer success teams.
But, it all starts by putting your buyer or customer at the center.