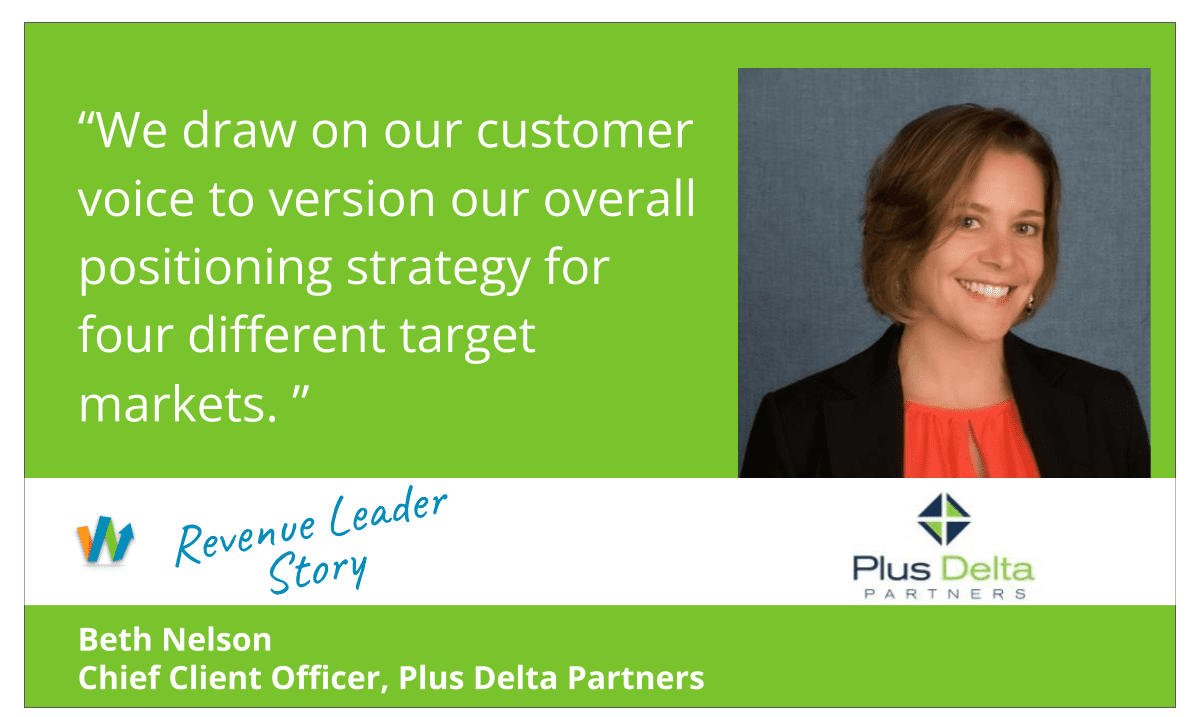 How well do you harness your customers' voice to sell faster into target market segments?   
"We sell to fundraising teams in four different markets," says Beth Nelson, Chief Client Officer at Plus Delta Partners. "We work with research universities, small- to mid-size colleges and universities, healthcare, and nonprofits. They all use the same product, but we draw on our customer voice to build a different version of our positioning strategy for each market."
A lot of go-to-market teams use generic positioning across all their target markets. For buyers, this can feel, well…very generic! Beth and the team at Plus Delta have figured out they can grow much faster by capturing their customers' voice — meaning they make small adjustments to words and language in their messaging — to ensure their product's value prop really lands for new buyers in each target market segment.
In fact, Plus Delta's success in capturing and selling forward their customer's voice helped them achieve a year-over-year growth rate of 40% or more for five consecutive years. They went from being a niche player to one of the premier providers of fundraiser training in a few short years. I recently spoke to Beth about this remarkable journey and how her strategies for positioning value helped build this success. Here are her two key principles.
Principle 1: Capture Your Customer's Words
"Early on, we had a great list of liberal arts colleges and mid-sized universities as clients. Places like Pomona College, Saint Joseph's University, and Loyola Marymount," Beth says. "They wanted to build a repeatable, team-wide set of best fundraising practices for teams of 8 to 15 people. But, when we went to research universities or hospitals, "team-wide" meant a very different thing."
Research universities have very large fundraising teams — 50 at the low end and up to 400 at the high end. Plus Delta watched Duke and Michigan State use their program to offer training to specialized cohorts within the broader team, such as frontline managers or high-potential fundraisers or fundraisers in specific academic units. "In selling our program to research universities," Beth says, "we learned to message a 'cohort'-based approach to building high performance in one 'team' after another."
In the healthcare market, Plus Delta watched UCSF, Duke Health, and other health systems use their training program to build a "team-wide" set of best practices across fundraisers and medical doctors. Physicians are key constituents for grateful patient fundraisers, but hospitals often find that doctors and fundraisers do not necessarily work together effectively. "Team-wide" for hospitals means, most importantly, doctors and fundraisers collaborating effectively.
Principle 2: Adjust Your Buying Group
"As we moved from segment to segment, it was not just the positioning strategy, but also the buying group that changed," Beth explains. "Liberal arts colleges tend to be very Chief Development Officer-centric. As we move to research universities with larger organizations, however, middle managers become key to the sales process."
Plus Delta learned that without middle managers actively advocating for their "team" to be part of an initial cohort, a sale to a research university could easily stall as the Chief Development Officer got pulled into other pressing priorities or were a step removed from knowing the day-to-day behaviors or skills of the gift officers.
Similarly, as Plus Delta moved to healthcare, medical faculty and medical leadership buy-in became key to success. Successful sales in hospitals frequently had to involve not just fundraising leadership but also non-fundraising leadership advocating for a strong collaboration between medical and fundraising staff. As Plus Delta moved into the non-profit sector, they found a similar need for collaboration between fundraising staff and other leadership. In the case of non-profits, boards and board participation became key to the sales process. Board members at non-profits, similar to doctors in healthcare, need to be seamlessly integrated into donor identification and cultivation.
There is nothing that will grab a buyer's attention quicker than telling them that you have been successful with a customer who is just like them. This is why Beth's approach is so powerful. To mirror her success, capture your customers' voice around key use cases and language in each of your target market segments. Then share this voice with new buyers in the same segment as a reliable strategy to accelerate revenue growth.