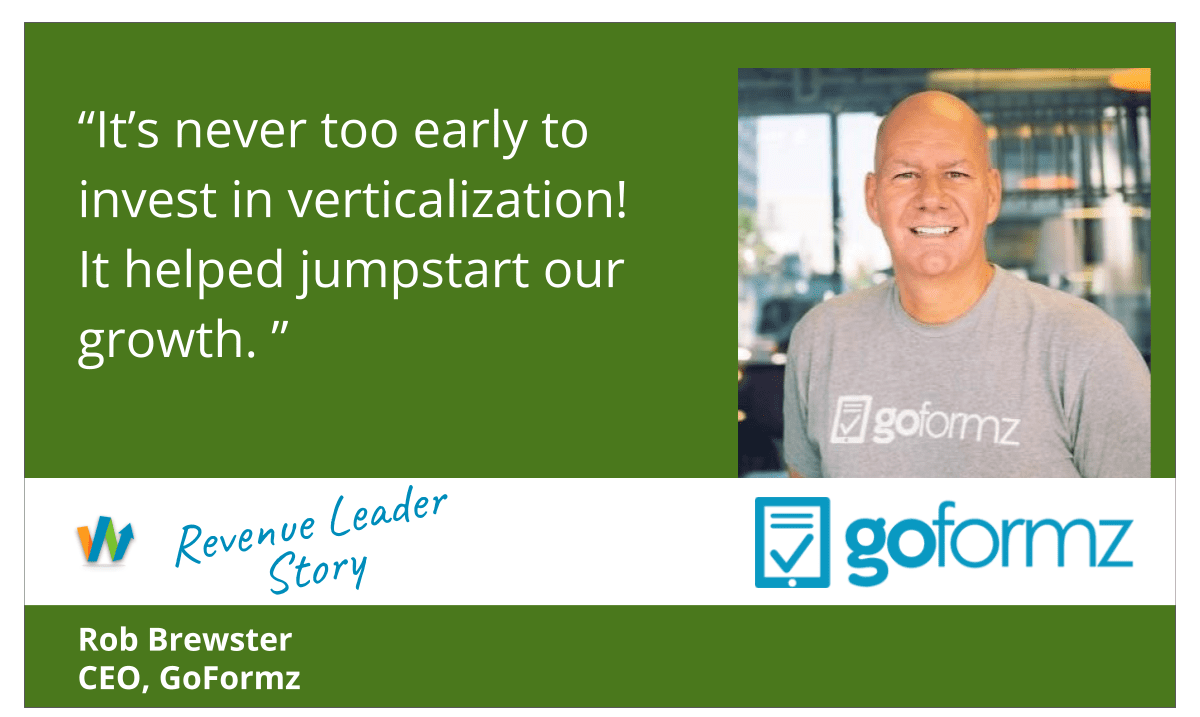 When is the right time to build vertical expertise?   
"It is never too early!" says Rob Brewster, CEO at GoFormz. "Investing in verticalization helped jumpstart our growth.  It brought us closer to customers and let our sales teams speak with expertise by using the right stories and uses for each type of buyer."
In fact, GoFormz's investments in verticalization in combination with investments in an inbound program helped the company shift its growth trajectory.  From linear revenue growth in 2020, it is on track for 40% revenue growth in 2021 and will more than double its headcount to just under 100 employees.
A veteran of Salesforce, Eloqua, and Twilio, Rob recognizes that growth stage teams need a very different approach to verticalization than large enterprise companies.  From my conversation with Rob, here is how growth-stage teams can invest in vertical expertise.
Practice 1: Have Go-to-Market Teams Cover Multiple Verticals
GoFormz offers a platform that turns paper-based processes into digital forms and data across more than a dozen industries, including Energy, Construction, Engineering, Food & Beverage, Field Service, Healthcare, HVAC, Manufacturing, and Transportation.
"Unlike in large enterprise vertical teams, our vertical teams typically cover 3 to 4 industries.  We have end-to-end go-to-market teams that include an SDR, Account Executive and Account Manager," Rob shared, "but, Construction is the only large vertical with enough scale from an account and revenue perspective to have a dedicated team."
Practice 2: Invest in Broad Vertical Expertise
"Like larger companies, we have hired subject matter experts (SMEs) for Construction and Healthcare.  But we place more value on all team members developing their own vertical knowledge and expertise,"  Rob explained. "We want them to read industry journals and blog posts as well as find industry mentors.  We have put the expectation for vertical expertise into a formal performance review process to highlight that it is a core company value."
The inclusion of qualitative skills like industry expertise in the performance review process is part of Rob's philosophy. "You have go to hit your numbers, but you have to do it right."
Practice 3: Build the Right Vertical Content
Buyers expect a hyper-personalized buyer journey.  Content that speaks to their individual use cases and stories from peer buyers can quickly build buyer confidence.
"We start a vertical-specific buyer journey right on our website," Rob finished. "Each industry has its own page with targeted use cases and three to four peer customer stories.  Our sales team continues to use case studies, blogs, and industry-specific content throughout the sales process.  The sales process culminates in a software demo that uses industry specific use cases to build a live example of the buyer's top use cases in real-time."
While enterprise and growth-stage companies need to approach building industry expertise in different ways, Rob's experience as a revenue leader has shown the power of investments in vertical knowledge for any size of company.