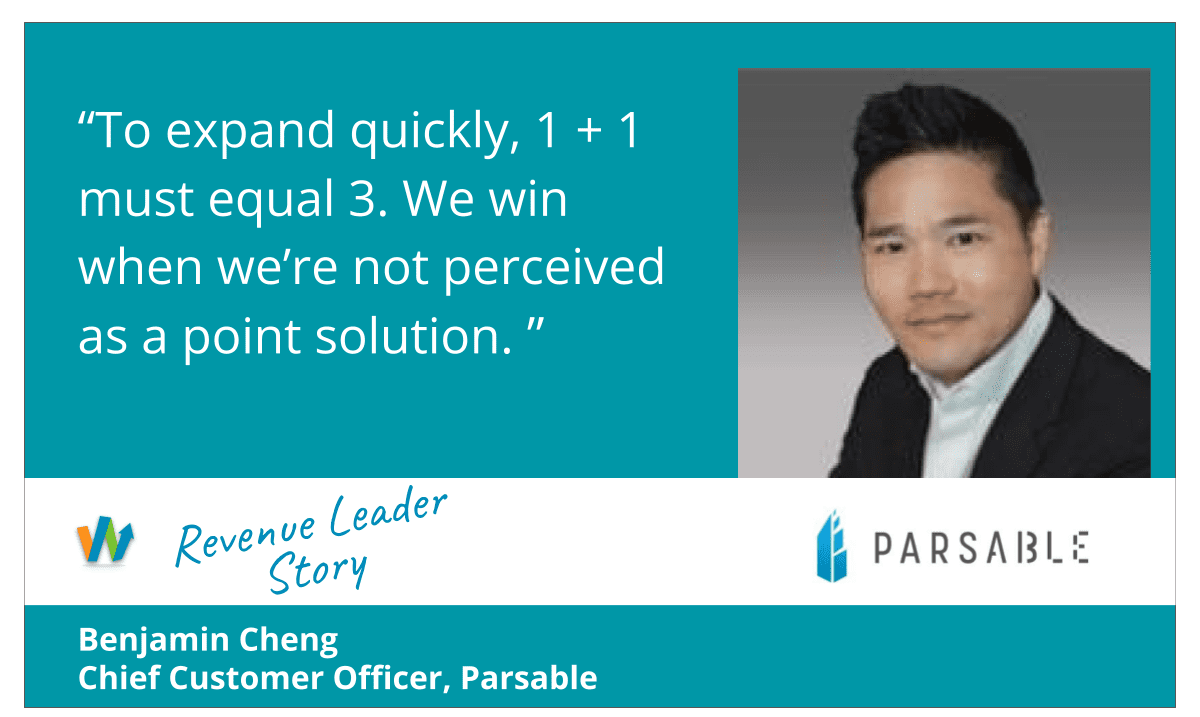 Are you leaving money on the table because you are perceived as a point solution rather than as a platform with broad enterprise value?   
"We want our new logo team to look for quick wins on a single-use case, but it is our platform value that is the game-changer for us," says Ben Cheng, Chief Customer Officer at Parsable. "Once we have a first use case under our belt, there are a dozen directions we can go to extend platform value. We win because we are not a point solution, we win because we are an enterprise platform."
'Product-driven growth' and 'digital demand generation' have become the go-to-market rage, but they often lead to a product being perceived as a point solution. Ben and the Parsable team are showing how overcoming this perception can lead to dramatic growth. Their approach? Sticking to the tried-and-true principle that "expansion revenue costs ¼ of net new revenue."
In fact, when Parsable rolled out a new ABM approach focused on platform value, they grew their expansion pipeline by 50% in just 90 days by unlocking new expansion opportunities. I recently spoke to Ben about how his team drives growth with a platform value prop. Here are his key practices.
Practice 1: Identify Discrete Value for Each Buyer Persona
Parsable works with manufacturers in food and beverage, paper and pulp, cement, chemicals, and many other sectors. It's Connected Worker Platform digitizes paper-based processes in departments that include production, operations, maintenance, quality, continuous improvement, safety, environment, and health.
"Each of our buyers wants to know what is in it for them," Ben explains. "Senior executives get the value of digitizing paper to create standard operating procedures and data analytic insight. Line managers are focused more narrowly on the processes and tasks right in front of them. We have to speak to each line manager about individual use cases."
Practice 2: Explain How Platform Value Means 1 + 1 = 3
"Momentum to go horizontal across the manufacturer, however, has to come from a platform value proposition. 1 + 1 needs to equal 3," Ben stresses. "If there isn't more platform value as we add use cases, there is no incentive to move away from the point solutions already in place. For us, each use case we add to the platform eliminates costs and dramatically raises cross-enterprise business insight."
Cost reduction, fewer vendors to manage, and cross-enterprise business insight are three key pillars of a platform value proposition. Others can include higher customer lifetime value, faster time-to-decision, and improved organizational collaboration and sharing.
Practice 3: Expand Around Confirmed Value
"Expansion works best when it is anchored on confirmed value," says Ben. "We try to work toward a business case and clear ROI with every partner, but often just being able to show a before-and-after impact from moving off a paper-based process is enough."
One example of confirming value with a clear ROI is the way Parsable reduced quality issues by 200% with one of its furniture manufacturers. When the manufacturer moved from a manual inspection process to digital inspection with a picture upload on each completed inspection, they quickly caught and corrected a persistent problem of staples showing up on finished furniture. This confirmed value opened the door for expansion.
For one of Parsable's largest building materials clients, increased visibility alone was enough for a broad expansion. Before using Parsable, plant leadership thought their teams were completing 30 to 40 major maintenance tasks a week. With Parsable they could see completion of maintenance tasks was actually 50% of that rate. With this value confirmed, they immediately expanded and were further able to use the Parsable platform to prioritize maintenance tasks to align to this capacity.
New logo acquisition and current customer expansion are clearly both important to revenue growth. However, most companies with transformational growth get there by harnessing a platform value prop. A platform value prop dramatically reduces the overall costs of revenue acquisition compared to continued focus on growth through point sales to new logos alone.