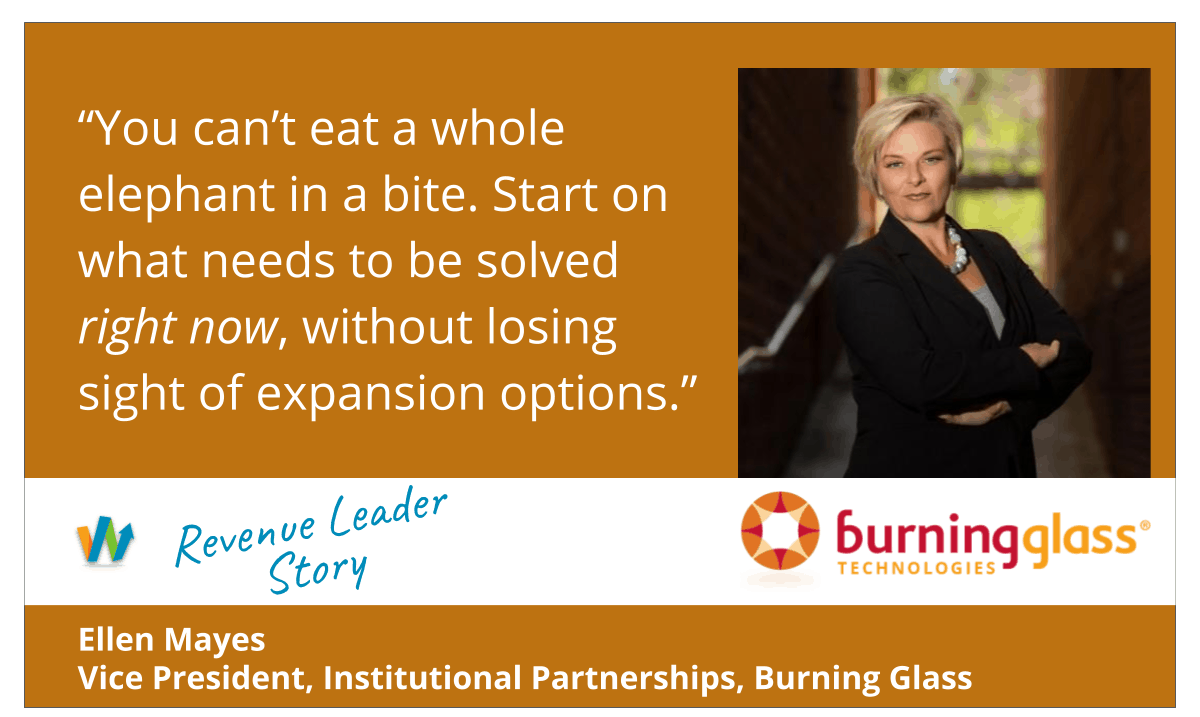 A good mutual success plan shifts the buyer-seller relationship from "closing a deal" as an isolated transaction to relationship building that connects each buyer-seller conversation around the opportunity to "continually expand value."   
Broad goal exploration during buyer discovery helps to identify a range of ways a company can align to buyer's critical goals and initiatives.  It also has the risk of creating decision-making complexity which can cause buyers to slow down and deals to stall. This is where a mutual success plan makes all the difference.
A mutual success plan helps balance broad and deep discovery with the right place to start a business relationship.  One team that has made great use of mutual success plans to land and expand faster is Burning Glass Technologies institutional sales team, under the leadership of Ellen Mayes, Vice President, Institutional Partnerships.  I had the opportunity to talk to Ellen about this recently.
Ellen's Philosophy: "You Can't Eat a Whole Elephant in One Bite"
"You can't eat a whole elephant in one bite," Ellen told me in explaining the value of a mutual success plan. "There are lots of things a buyer may want to do, but we have to help them identify and address the most pressing thing now."
"Oh, that's interesting," I said. "What makes you say that?"
As I was speaking with Ellen, I was thinking of how many salespeople with the prospect of a big commission on the horizon will try to engineer a big sale right away.
"I have many buyer conversations where there are three or four different goal areas the customer wants to address, and they can get overwhelmed or freeze up in trying to figure out where to start," Ellen replied. "This is not good for getting an initial close. It can lead to stalls. I work with these buyers to use the first goal area to lay the foundation for the other areas."
Burning Glass Technologies is the world's leading labor market analytics company and provides real-time data on jobs and skills trends to companies, governments, and colleges tracking about 3.4 million unique, currently active job openings.   Burning Glass's Institutional sales team works with colleges and universities to apply this real-time data to a number of goal areas, including helping with undergraduate enrollments,  graduate enrollments, academic portfolio management, career skills for student success, and corporate partnerships.
The breadth of campus goal areas the platform can address is both a strength and a weakness.   There are lots of buyers from different parts of campus who can be engaged, but the breadth of appeal can also lead the Burning Glass team to end up in product demonstrations with groups from four or five different areas of campus, all with different goals.   Rather than leading to a tight product demonstration with momentum into a proposal and closed sale, the breadth of discussion can lead to a lively discussion that lacks actionable outcomes and causes drifting interest post-demo with a lot of loose ends.
Land on Highest Urgency Items
"Can you say more about how a mutual success plan can help avoid deal stalls and turn the breadth of the Burning Glass platform into a more consistent strength in positioning upsells?"  I said to Ellen.
"I always want to do broad initial discovery to identify multiple different use cases that might support a partnership," Ellen replied.  "That may mean bringing stakeholders from four and five different departments into one or more product demonstrations.  However, I always lead these stakeholder demonstrations in a way that identifies the one or two use cases that 'need to be solved' right now.  Then I start to talk about those high-urgency items as Phase I."
"That makes sense," I said. "And how do you make those high urgency items actually translate into a Phase I closed sale?"
"I focus the stakeholder group on a process to get these Phase I items to the finish line,"  Ellen said. "It is really about creating a simple 'closing checklist' of things that need to be completed, personalizing ownership, and setting target dates for completion.  That closing checklist would include contract reviews, Legal, IT, and Procurement sign-offs."
Expand with a Clear Process to Revisit All Buyer Goals
"And, how do you make sure that Phase II goals actually stay in focus and come back into the customer opportunity as part of an upsell opportunity?" I asked.
"Good question,"  Ellen said. "It is important in the sales process that we talk about Phase II mid-term goals as building on the foundation of Phase I goals.  This makes it easier to hand off Phase I and Phase II goals  in a connected way to the customer success team.   This is where a mutual success plan comes in.  It supports documenting Phase I and Phase II goals, metrics, and key decision-makers so the customer success team can manage each relationship around key goal areas."
"Once the relationship goes over to the customer success team, what is the prompt to revisit the Phase II goals?" I asked.
"We have agreed on check-in points for a more strategic account review,"  Ellen said. "These are different from the regular account calls which are focused on implementation and product training.  Having that Phase I and Phase II document makes it possible to use the strategic calls as a 'soft sell' to come back to the Phase II goals.  We revisit the customer goals, share successes to date and also bring in stories about how other similar customers may be using the platform."
Adopting Mutual Success Plans Shortens Burning Glass's Time-to-First-Close by 50%
The shift to a mutual success plan documenting a Phase I and Phase II plan has had some immediate benefits for the Burning Glass team.  First, it led to an increased number of sales that closed within eight to twelve weeks, rather than the more typical six month sales cycle, as the sales team quickly focused on a use case with a strong payoff.  Second, it helped to shift to a mindset of continual value expansion, which supported expanding the number of upsell opportunities.
How to Execute the Mutual Success Plan
The Burning Glass example shows how a good mutual success plan brings the customer, the sales team, and the customer success team into alignment.  It helps reduce decision-making complexity for the buyer by focusing on immediate high priority items, while also not losing sight of a broader set of buyer goals that can, over time, support account expansion.
Here are some things to keep in mind when working with your team on a mutual success plan:
Encourage broad value discovery on multiple buyer goal areas throughout the sales process.
Ask your team to organize buyer goals into immediate Phase I priorities and mid-term Phase II priorities, with Phase I items the "must haves" with a known budget and decision-maker.
Develop a simple mutual success plan document to capture the plan and hand off from Sales to Customer Success. The plan should include learnings about Phase I and Phase II buyer goals, success metrics and decision-makers.
Build into your customer success or account management process regular strategic review meetings with customers every 3 to 4 months. Use these meetings to revisit buyer goals outlined in the mutual success plan.