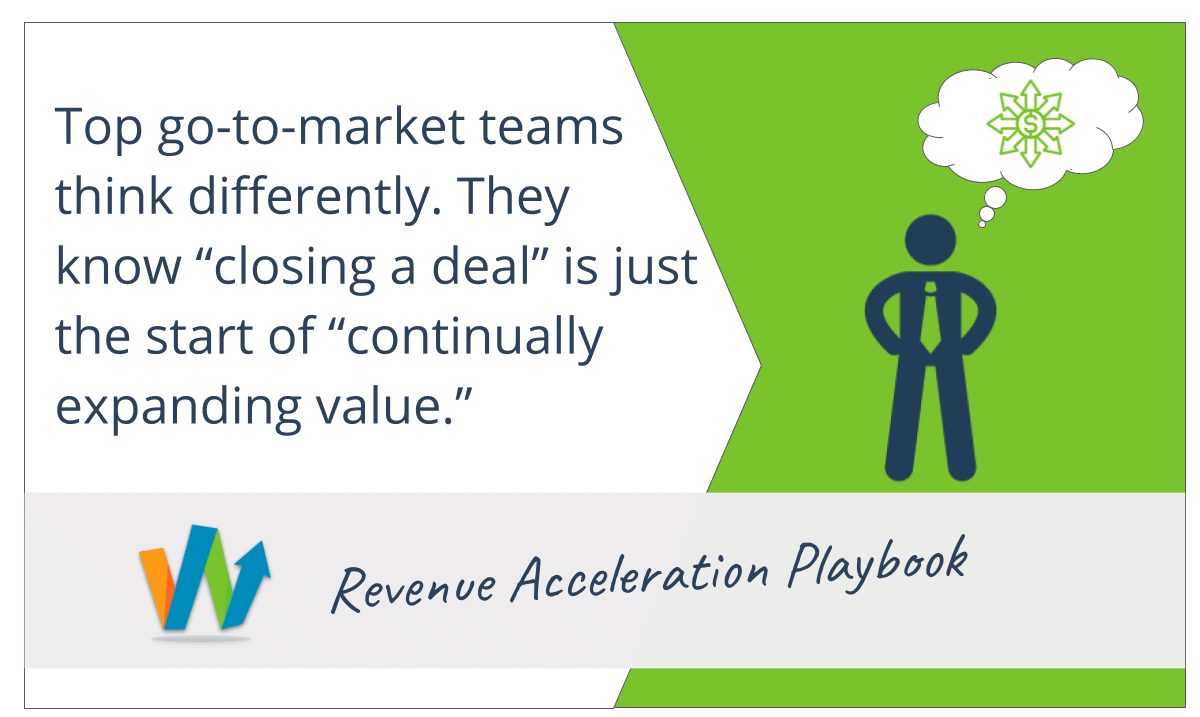 Uncommon Opinion:  your account expansion really starts in the initial closed sale.
Too many go-to-market teams view closing an initial deal with a new buyer as a separate activity from expanding account value after a buyer has turned into a customer.  Sales does the closing, Account Managers and Customer Success Representatives focus on expansion.
Top go-to-market teams think differently.   They do not think of "closing a deal" as an isolated transaction but as the beginning of a buyer-seller conversation around opportunities to "continually expand value."   Sales conversations and customer success conversations are directly linked around the idea of continual value discovery.  Each conversation is an opportunity to identify ways to deepen and expand buyer value.   To support this journey of discovery and accelerate account expansion, I recommend the mutual success plan. The mutual success plan is a powerful tool to build a process of continual value expansion and account deepening across your sales, account management, and customer success teams
A Mutual Success Plan Makes it Possible to Land and Expand Faster.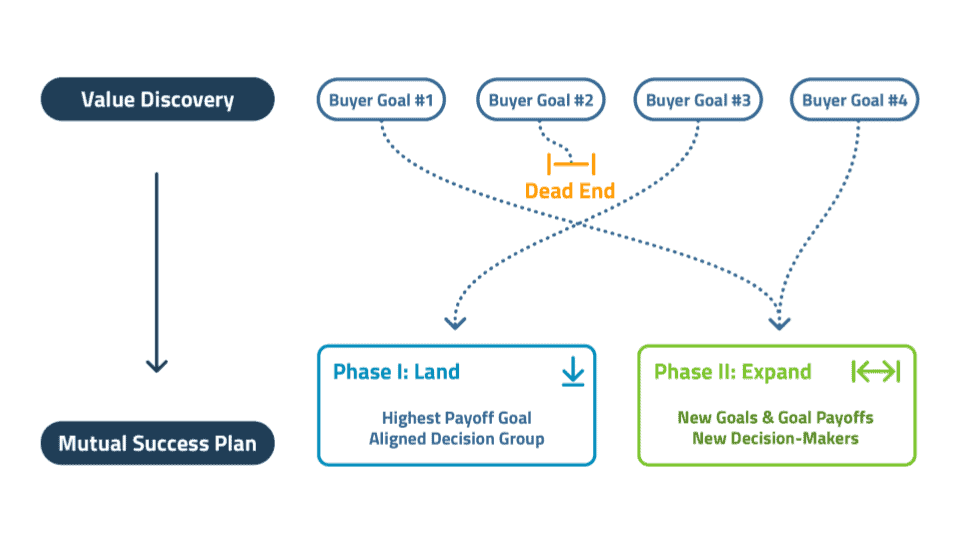 Here are three outcomes from a good mutual success plan that can help you with faster deal and account expansion velocity.
Outcome #1: Turns Broad Goal Exploration into a Strength
Broad discovery on a number of buyer goals has several important benefits for closing an initial sale with a new buyer.   It makes it easier to identify the goal area with the highest business impact, strongest potential ROI and least pricing pushback.   Broad goal exploration also helps sales teams build deal velocity by inviting a variety of decision makers into the conversation to support identifying multiple potential sources of budget or funding.
Broad goal exploration, however, also has the risk of creating decision-making complexity which can cause buyers to slow down and deals to stall.  When buyers have lots of options left open, they create their own decision-making complexity by latching onto unanswered questions as well as areas of ambiguity.
It is this need to balance the strengths and risks of broad goal discovery that makes the mutual success plan such an important play in the closing and expansion playbook.   The alternative to leaving options open is collaborating with the buyers to target one or two specific goal areas to begin a partnership that have a clear and meaningful impact or ROI.   As important, by documenting all buyer goal discovery while closing the initial deal, a mutual success plan makes it possible to more quickly identify expansion opportunities that can deepen a customer partnership after demonstrating impact on their initial goal area.
Outcome #2: Focuses on Highest Urgency Areas for a Close
The best discovery uncovers two, three, four or five different goal areas where the buyer may have a gap or a pain they need help addressing.   Trying to address all of these at once is likely to lead to a stall.  The mutual success plan helps to prioritize all of these goal areas to identify those with the highest potential impact.   This could be an emotional impact that taps into a buyer's feeling of relief about a problem being solved or better serving a constituency.   It might be a financial impact linked to a specific revenue or cost ROI case to justify a budget investment.   It could also be an organizational impact around improving team performance, changing an employee experience or changing a user experience.
Ultimately, it is the buyer and the buyer's decision-making group that has to prioritize which goal areas have the most meaningful impact.   The role of the sales team is to ask the buyer's decision group to make this evaluation, while co-developing a mutual success plan.   Prioritizing goal areas and potential impacts helps to identify and narrow focus to the Phase I goal areas that will be part of an initial partnership, while also confirming Phase II goal areas that can be revisited after success in Phase I.    The goal areas that should be included in Phase I are those with specific, concrete impacts where there are no outstanding details or questions that need to be answered.
Outcome #3: Anchors Expansion on Initial Goal Achievement
Broad goal exploration also helps raise account values by reducing the timeframe from an initial sale to an upsell opportunity, but only if everything learned during the sales process is written down and handed forward.   The best vehicle for this is the mutual success plan. Sales teams handle initial sales, then typically collaborate with Account Management and Customer Success teams who lead on account expansion.  Unfortunately, some sales teams are so focused on initial sales that they forget that the real value in an account often comes from a series of upsell opportunities that can expand and deepen the account relationship over time.  The mutual success plan captures goals for an initial sale as well as future expansion so all teams can progress the seller-buyer conversation without losing momentum.
Continually building an authentic experience by reconnecting to what the buyer values most is not only key to an initial sale.  It also needs to be a center of the sales, account management and customer success work around account expansion.  A focus on selling more product to existing customers, without first anchoring back to the buyer's goals, can lead things off track for both the customer and the sales team member.
Top go-to-market teams use account review calls to revisit Phase I and Phase II goals, continually revising and co-developing the mutual success plan with the buyer.  Customer success teams focus on implementation and product training, but also strategically deepening an account relationship.  Having that Phase I and Phase II document in the form of the mutual success plan makes it possible to use calls strategically as a 'soft sell' to come back to the Phase II goals.  With the mutual success plan in mind, they can revisit customer goals, share successes with that customer to date and also bring in stories about how other similar customers may be using the platform.