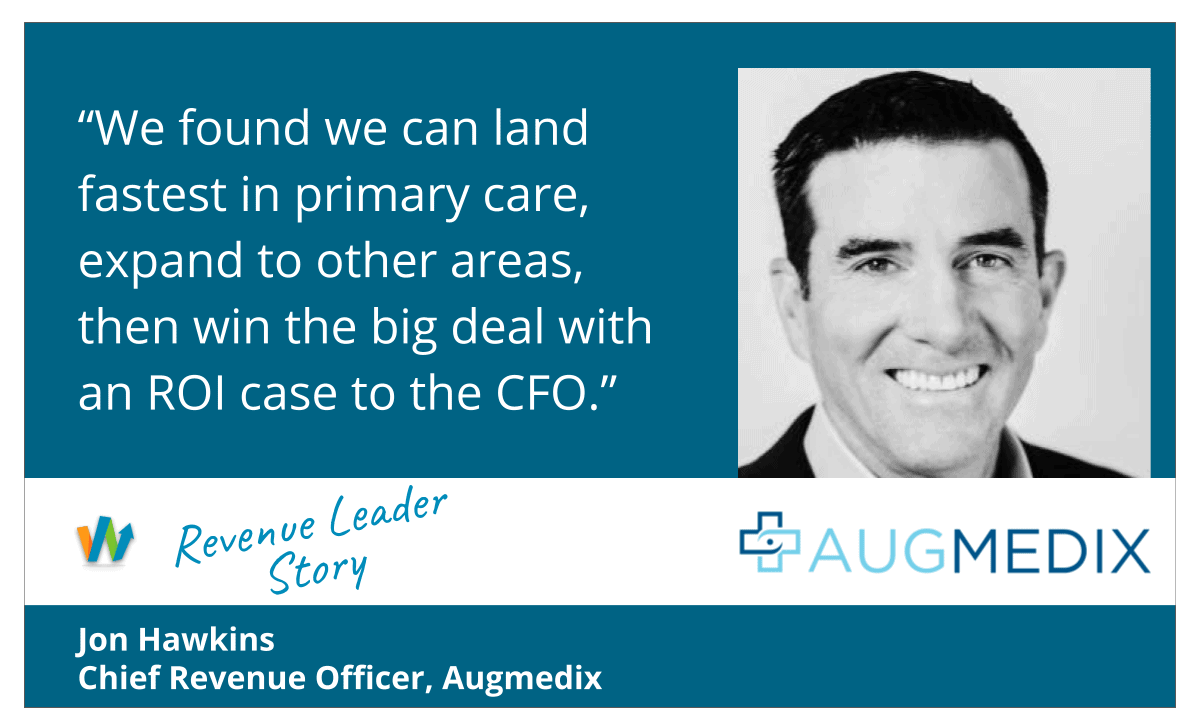 Too often, go-to-market teams focus account expansion efforts on "selling into the white space" of the product capabilities that their customer has not yet purchased.  In other words, they view the area of open opportunity in terms of their own product.  
White space campaigns, however, work best when they focus on a new buyer goal or an expansion of buyer value connected to their initial purchase. To increase your account values faster, lead upsell efforts with a focus on new "white space goals" rather than "white space product capabilities."
Your customers are going to be a lot more receptive to new expansion purchases when they are positioned as goal achievement on their first purchase, rather than just a new product that will require more budget.
One company that has done an exceptional job of growing accounts with a focus on "white space goals" is Augmedix under the leadership of their Chief Revenue Officer, Jon Hawkins.
Identifying "White Space Goals" Builds an Expansion Roadmap
"I joined Augmedix at a really exciting time of new product innovation, but also a time with really aggressive growth expectations," Jon explains.  "To hit our growth targets, we were going to need to be very efficient in using our prospecting capacity on the campaigns with the highest return across both new customer acquisition and current account expansion."
Anyone who has been to the doctor's office has experienced the burden doctors face splitting their mindshare between patients and taking notes.  This is the problem Augmedix solves.  Augmedix is a tech-enabled virtual medical documentation service that builds doctor productivity and work satisfaction by removing the heavy burden of capturing medical notes during doctor-patient interactions.
The burden of note taking has increased in recent years with growing state and federal Electronic Health Record (EHR) requirements.   The company's Augmedix Live solution offers a live virtual assistant that takes notes, puts in referrals, and offers reminders to doctors in real time.  Augmedix Notes is a tech-enabled asynchronous documentation solution that generates notes from patient-doctor encounters recorded via smart phone or Google Glass, which the doctor then reviews and signs off on.
"The good news was that, when I joined, I was able to immediately identify a new and higher value buyer goal area to engage CFOs and other executive leaders," Jon continues. "Augmedix had for years positioned itself as helping with physician burnout by removing the burdens of note taking.  However, that only goes so far with CFOs or clinic owners.  To engage these buyers we had to show a financial return measured in revenue units."
Identifying New Buyers for New Goals
Jon built his revenue growth strategy around an idea that many revenue leaders neglect.  Upselling and cross-selling works best when it's focused on new buyer goals and new business impacts.  Without  connecting the first and second investment, the upsell ask can be perceived as a vendor-centric "ask for more budget" rather than a buyer-centric "investment in greater achievement."
"Just after I joined, we completed a large-scale study on doctor productivity with one of our health system clients" Jon shares. "That study identified a direct correlation between doctor productivity and time spent on the electronic health record (EHR).  Doctors were spending up to half their day taking notes manually.  If Augmedix took away that note taking responsibility, the doctors could save two to three hours a day and see more patients. Every clinical department can put financial worth on that."
The addition of clinician productivity gave Augmedix the right mix of buyer goals and impacts to accelerate growth.  Augmedix's initial impacts were emotional and organizational.  Freeing doctors up from note taking increases physician quality of life, builds higher clinic morale, and reduces physician burnout.  By directly linking its technology to higher physician productivity, Augmedix added a very clear financial payoff to these existing emotional and organizational impacts.
"That very clear ROI payoff gave us a crisp message to directly prospect health system executives," Jon says. "We took this to high-level executive champions in new health systems and also engaged CFOs and other executive sponsors in existing client health systems, which helped us in upselling into more practice areas and departments."
Augmedix works with over 600 doctors at large health systems, including Sutter Health, Dignity Health, CommonSpirit Health and US Oncology.   Their addressable market includes several hundred large health systems that are not currently clients.  With the new focus on physician ROI, Augmedix aimed for market expansion into this new "white space goal" area and launched a new series of prospecting campaigns to grow with existing and new hospital systems.
Making New Goals Part of the Strategy Accelerates Augmedix Revenue by 55%
"In this new phase of growth, we needed to get very disciplined in figuring out how we could win faster," Jon says. "We started to do structured comparisons across all of our inbound and outbound campaigns.   We began to measure the total number of leads and meetings associated with each campaign to get to a conversion-to-meeting metric and figure out what messages were working.  We also started to collect qualitative information on the quality of those meetings."
The financial payoff of physician productivity, combined with the emotional and organizational payoff around a reduction in physician burnout, enabled Augmedix to build a new land-and-expand account growth strategy.
"If we could get just ten to twenty doctors in any clinical area using our platform," Jon says, "within six months we would have the ROI data to go to the CFO.  We learned quickly that primary care had one of the highest needs but lowest ROI returns, and often not the discretionary budget to invest in our platform.   We could get primary care engaged in reducing physician burnout, but to convert a larger deal we would first engage a 'wealthier' practice area, like orthopedics, to pay for primary care and use both areas to build the ROI case to the CFO."
Augmedix's focus on growing into the white space, along with disciplined testing to identify key impacts and ROI opportunities by buyer role, helped the company grow from about $11M in revenue when it began to engage prospects with the physician productivity ROI case to just under $17M in annualized revenue two years later.
How to Grow into the White Space by Addressing New Buyer Goals
It is about four times cheaper to upsell existing customers than acquire new customers.  According to one study by Insivia, it costs just $0.28 to acquire an additional dollar of revenue from an existing customer compared to $1.14 per dollar of revenue for acquiring new customers. You can maximize this opportunity by building an expansion strategy based on "white space goals."
Here are few key steps any team can make to get started with white space campaigns:
Identify business goals and impacts that your product or solution drives for your customers. What are the emotional, organizational, and financial impacts?
Connect those goals and impacts to buyer personas so that you have an organizational map of who cares, about what goal area, for each of your ideal customers.
Segment customers based on engaged and disengaged buyers so you can develop a cross-account campaign and messaging strategy focused on account types.
Use white space campaigns to build support with all personas. Design each campaign targeted to a specific disengaged buyer persona so you can expand existing business relationships around what each person cares about.
Share examples of a payoff to account expansion by drawing on existing customer success stories. Through these, show the buyer why they should consider deepening the relationship.
Upsells can be a quicker path to revenue growth because customers are a lot more likely to entertain a new purchase from a vendor they already have a relationship with.  However, when considering investing more dollars with a current vendor partner, a customer will want to understand clearly how this additional investment builds on and deepens their initial investments.