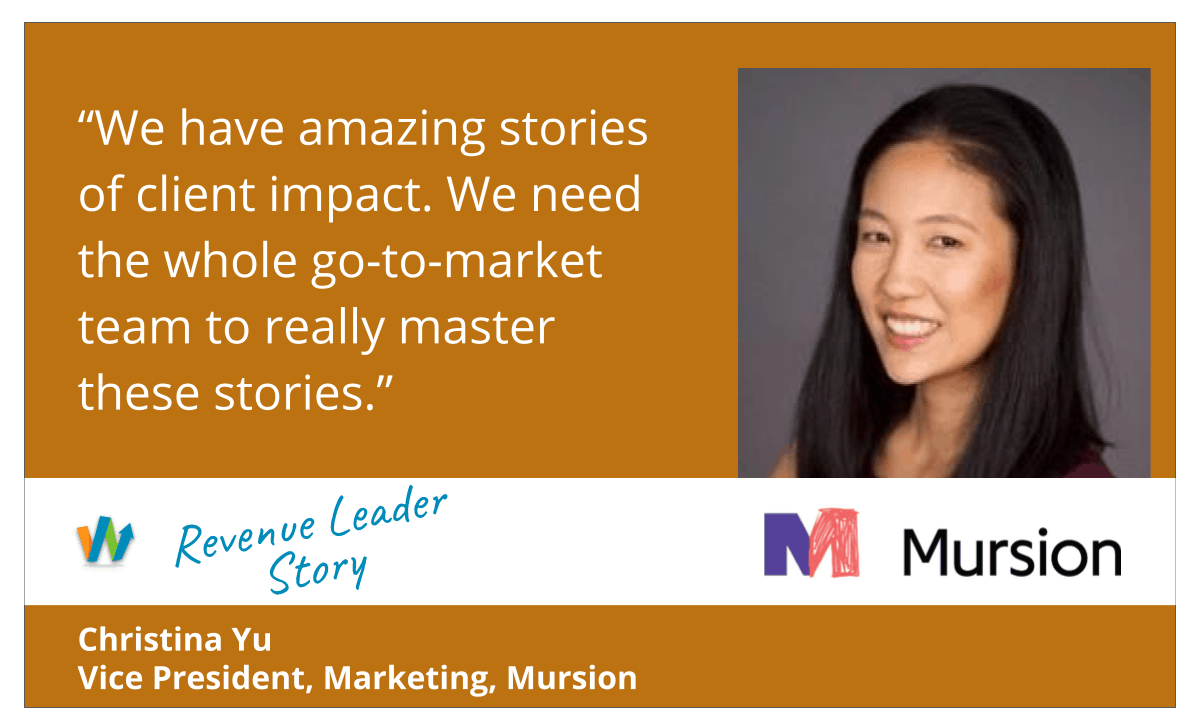 There is nothing that will grab a buyer's attention quicker than telling them that you have been successful with a customer who is just like them.   However, for most companies, customer wins are captured in case studies that sit on a company website or live in highly formatted PDF files rather than coming alive as actionable success stories that can be easily integrated into sales or customer success conversations.
One company that made actionable success stories a cornerstone of their revenue growth is Mursion under the leadership of Christina Yu, Vice President of Marketing. How did they do it? By focusing on authentic stories that quickly resonated with buyers and making these accessible for the whole go-to-market team. The approach wasn't automatic or obvious at first, but Christina knew the old way of putting out customer success stories wasn't cutting it and led the change initiative.
Powerful Success Stories Deliver Early Growth 
"We have amazing stories of impact at a blue chip list of clients that includes Best Western, Coca-Cola, Comcast, LinkedIn, T-Mobile, and the Air Force Academy," Christina told me when we first started working together. "The problem is, right now only our CEO and Vice President of Sales use our customer case studies effectively.  We need the whole go-to-market team to really master these stories."
Mursion's experience is typical – both in wanting to use their customer stories and in struggling to get team adoption.  The Mursion leadership knew they had great customer stories and they had experienced how powerful these could be when relating to new buyers.  Research from Prezi backs this up showing that for nearly 9 in 10 buyers, and for 55% of business buyers, a great story or narrative is the most effective way to capture and keep attention.
Despite the power of customer stories in selling, Mursion is not alone in their struggle to effectively leverage these stories. In fact, according to a 2017 Content Marketing Institute study, up to 70% of marketing-generated content never gets used by the sales team.  Too often companies put case studies on their website but fail to develop success stories that are actionable in a sales conversation.
"Our CEO has shared how many  first movers lose their market leadership as 'look-a-like' competitors copy their success," Christina said. "The whole leadership team is committed to making sure that does not happen to Mursion.  I want to be able to get these stories into an actionable format to help our whole team.  It should help our SDRs to engage new buyers, our sales team to accelerate buyer conversations, and our engagement managers to identify expansion opportunities with existing customers."
Mursion started the market for immersive virtual reality (VR) simulations with a unique blend of artificial intelligence and live human interaction to build soft skills training for leadership, diversity and inclusion, sales and customer service.  Learning and Development and Human Resource executives in large and mid-size enterprises saw Mursion's immersive VR as a way to shift from a generic classroom training, or generic elearning experience, to an authentic, interactive training experience that could scale cost-effectively.
By the time of my conversation with Christina, Mursion had a library of stories where customers had proven the value of the solution in achieving a variety of training goals and the leadership team wanted to leverage these stories to accelerate growth and maximize their first-mover position in the market.
Making Story Telling Scalable: How Mursion Mapped Stories to Use Cases and Market Segments
"I started with a recording and notes of our CEO talking through a dozen of these key customer stories,"  Christina explained.  "In selecting the stories, we wanted to make sure to have a couple of good ones for our leadership, diversity and inclusion, customer service and sales use cases.   We also wanted examples of our successes in key industry verticals like financial services, retail, hospitality and others."
In developing the client success stories around buyer use cases with industry peer examples, Mursion followed a key best practice.  Too often content is developed as individual content assets focused on a company's own products and services rather than being linked to a buyer's specific business goals and offering peer examples of that goal achievement.
"Sales team input was another key part of our process for developing our success stories,"  Christina continued. "I did not want to spend time on these customer stories and then have them sit on our company website and never be used.   I wanted to understand the format that was most likely to fit directly into a sales or account management conversation."
Getting Direct Input from Sales and Customer Success Helps Hone Deliverables
The focus on getting input from market-facing teams was a second best practice used in Mursion's success story initiative.  Sales teams and customer success teams talk with current and potential customers all day long,and have the best understanding of the type of information on use cases and peer examples that will excite buyers.   Getting their input early and often on success story format dramatically improves the likelihood that success stories will be used as part of the buyer journey.
"We had planned to put these success stories on our website," Christina said. "The team's input resulted in a focus on two more formats.  First, we developed a short set of bullet points for each success case or a 'snippet' that could be used verbally in a sales call or even in an email outreach.  The second  new item was a set of success case slides.  We put the slides into a library, noting the specific training use case and industry sector, to help the sales team easily and quickly build a tailored deck for each sales conversation."
Making Stories Come Alive in All Phases of the Buyer Journey Contributes to 250% Growth
A third best practice used by Christina and the marketing team at Mursion was building success stories into content pathways that align to the buyer journey.    As buyers move through the purchase decision, they look first for insight about their goals and challenges, second for tailoring to their specific needs, and third for demonstrated expertise to de-risk a purchase decision for themselves and their organization as a whole.
"The final phase of the success story effort was to link the stories to existing content," Christina shared. "We now had success case snippets along with webinars and research snippets on our website and in outreach emails to support early discovery.   The bullet points for each story are also very useful to sellers during a first or second call, when they are sharing information verbally, because they speak to a buyer's specific needs.   The success case slides can be used during a decision group call or as a follow up to build confidence that we've solved their same problem for others."
Christina and Mursion's commitment to making their customer success stories actionable in all phases of the buyer journey has been an important contributor to the company's growth and continued market leadership for immersive virtual reality.   Even as new competitors entered the market, Mursion continued to grow at 250% to 300% a year and remains the dominant player in the category they created.
How to Position Your Customer Success Stories
The Mursion example shows several key best practices for using customer stories to effectively engage buyers and build momentum in buyer conversations.   If you have great customer stories you want your team to use, here are a few diagnostic questions you can ask yourself as you review how well your success stories support your selling team in all phases of the buyer journey:
Do you have a couple of success stories for each buyer goal or use case you help advance?

Do you have success cases in each of your target market segments?

Have you asked your sales and customer teams for input on their preferred formats?

Do you provide success case stories in multiple formats to align to the buyer journey? For example, for each story, do you have bullet points or snippets, success case slides, and written formal case studies?
If you tell your buyers or your current customers stories about how you have helped others like them succeed, you are much more likely to win both new and expansion business.