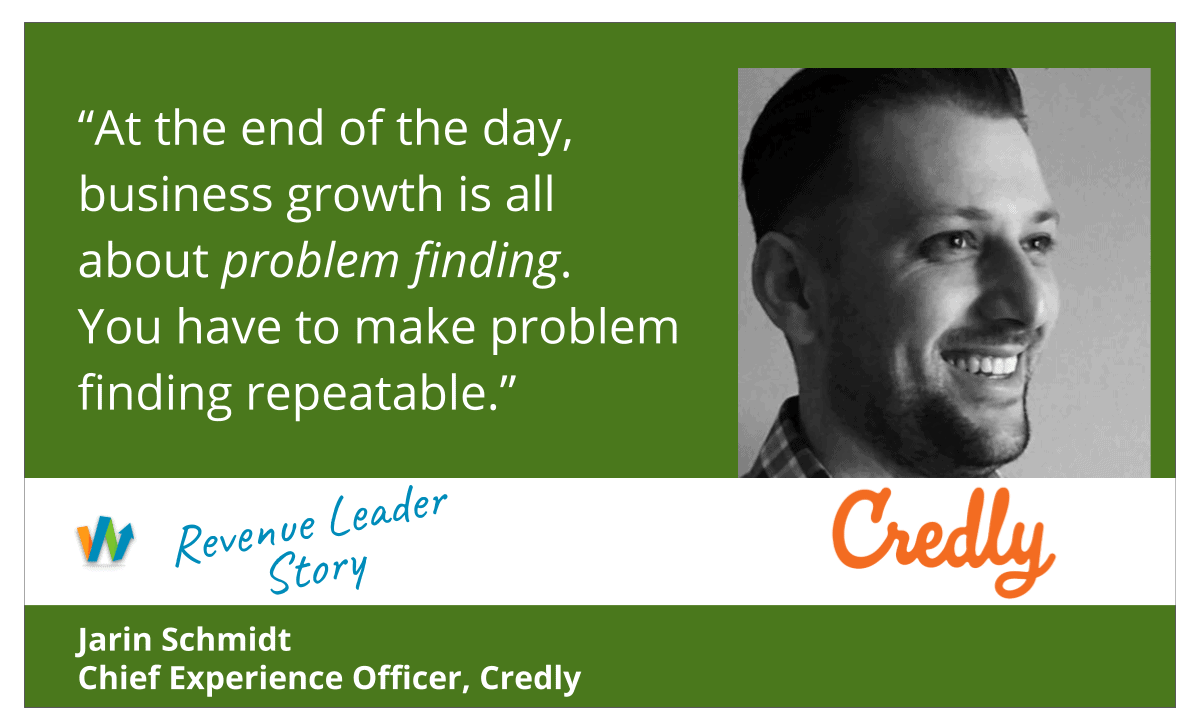 Good discovery takes the guesswork out of sales and customer success work.  It lets a new buyer tell us exactly why they are talking to us and what might motivate a purchase.  It lets an existing customer tell us what could lead to an account expansion.  The best buyer conversations never move to discuss or demo a product until there is a clear idea of a buyer's goals and motivations.
One team that has made good buyer discovery central to their revenue growth strategy is  the team at Credly.  I had a chance recently to speak to Jarin Schmidt, Chief Experience Officer at Credly, on how they developed this sales habit early in their growth trajectory.
More Than Just a 'Cool Concept': Credly Team Zeros in on 'Problem Finding' to Engage Buyers 
"Our business success has come from focusing on the idea that the customer does not buy a product or a feature, but a solution to a business problem," said Jarin Schmidt, Chief Experience Officer at Credly. "Our challenge is that skills badging is such a new idea that our buyers and our team can get focused on badging as a 'cool concept' and forget to do good discovery on the business problem it solves."
In the e-learning ecosystem, a digital badge is an indicator of an accomplishment or skill that can be displayed, accessed and verified online. While relatively new, digital badging has been growing in popularity since a standard for digital badges was first developed in 2011. Organizations ranging from professional associations to employers to learning institutions have adopted digital badging, sometimes called skills badging or digital credentialing, to enable people who participate and successfully complete their programs to communicate their achievement online in a recognized and verifiable format.
In 2018, when Jarin joined Credly, the company was a nimble start up with just about 20 employees. Jarin came to Credly as part of its acquisition of Pearson Education's badging business called Acclaim.  Prior to joining Credly, Jarin had spent more than 17 years working in various roles at Pearson, including four years on the Acclaim team.
"The Acclaim badging system had been just one element of a large portfolio of education services at Pearson," Jarin said. "With the transition to Credly, I certainly stopped to wonder if this cool concept of badging could solve enough business problems to turn a start up into a successful stand-alone business."
Jarin was confident, however, in the many business problems digital credentialing could solve.
"Whether it is a big or small company environment," Jarin continued, "at the end of the day business growth is all about 'problem finding.'  In the years I had worked on digital badging at Pearson, I had gotten really good at problem finding.  I was always able to show human resource executives a wide variety of talent management challenges that digital badging can help solve.  So, I knew the market opportunity was huge."
By relating his perspective on the market to the problems that can be solved with digital badging and keeping the human resource executives at the center of his thinking, Jarin was drawing on a key best practice in building an authentic buyer journey by not starting with his product, but starting with a problem or, even better,  several problems that the buyer is working to solve.
A Buffet Menu of Buyer Goals Quickly Identifies High-Urgency Pain Points
"There are numerous business challenges that arise when skills are not effectively documented," Jarin explained.  "By linking the abstract idea of a professional skills credential to a specific business challenge caused by this gap, many desirable outcomes are possible.   Better skills badging can, for example, improve new employee recruiting by increasing brand awareness among passive candidates. Or, it can increase employee retention with better internal career paths.  It can also support higher training completion rates by showing the promotion opportunities that result from training participation.  I always focused my conversations with corporate buyers on these specific challenges."
Jarin's instinct that skills badging could solve a range of buyer problems was on target as evidenced by Credly's consistent and rapid year-over-year growth since 2018.  With a focus on solving identified business challenges, Jarin and his team signed up a lot of top corporate buyers, including places like KPMG, DocuSign, and Tableau.
"After proving we were pointed into a broad market problem, we next had to make 'problem finding' repeatable."  Jarin said. "So often, an early leader's vision and instincts fail to take hold in a sales team. Knowing this, we trained all of our sales team members to start each prospect conversation by sharing a 'buffet menu' of common use cases and then asking the buyer to identify the most important use cases for their own situation."
Jarin's team draws on best practices for buyer discovery by opening their meetings around this 'menu' of business goals and challenges.  Rather than open-ended discovery, or focusing just a single goal or challenge area, they use a structured opening to probe on several potential buyer goals.  Broad discovery on several goals leads to quicker identification of high-urgency problems.
"When a sales team member starts to talk about the badging features that appealed to a buyer," Jarin continued, "we take them back to buyer goals by asking 'Which use cases got them most excited?  What talent management problems did they need the most help solving?'"
Beyond 'Shallow' Discovery: Accelerating the Buying Conversation with Clear Payoffs
"As we move deeper into the sales process," Jarin said, "and have identified specific goals, we then ask more about how a gap in skills badging can hurt that goal achievement.  If a buyer is focused on talent recruiting, we ask about goals and obstacles to recruiting passive job candidates. We ask if they believe skills credentialing will raise their brand with passive candidates.   If a buyer is interested in training completion rates, we want to know how training and career promotion are linked for employees and if digital badging can create a stronger linkage."
Many teams stop at a first level discovery on a buyer's goals.  They effectively do "shallow" discovery on a buyer's goals before starting to talk about their product.  However, a buying conversation really begins when a buyer has not only a goal but also a perceived gap between their current state and an ideal future state where this goal is met.  That buying conversation accelerates when there is a clear payoff to closing the gap and achieving  a buyer's ideal state.
"We found that buyers with a specific goal and a known gap to achieving this goal are more motivated purchasers," Jarin concluded.
High-Quality Discovery Helps Buyers Solve Problems and Drives Growth
Credly created a growth juggernaut by having its sales team start each prospect conversation focused on value discovery rather than Credly's product.  By committing to doing high-quality discovery before talking about their product, the Credly team makes it possible for its buyers to tell them directly the goals, gaps to goals, and gains that are most likely to lead to a closed deal and successful partnership.
How to Use Deep Discovery to Map Your Buyer Goals to Valuable Problem Solutions
The Credly example shows several key best practices in using discovery questions to let your buyer build a bullseye for you.
Here are a few questions you can ask yourself as you think about making the transition from product-driven to value-driven buyer discovery and engagement:
Have you developed discovery questions that link to organizational goals, such as improving revenue, reducing costs, managing budget, increasing staff reach?

Are critical goal questions linked so it is easy to probe quickly on two, three, or four value areas?

Do you have gap questions to highlight the difference between a current and an ideal state?

Do you have payoff questions that draw out a buyer on the ROI case, organizational impact, or costs of doing nothing?
The heart of an authentic buyer journey lies in guided buyer discovery. Let your buyers build the bullseye and you will find it separates the qualified and less qualified buyers and lets you move those qualified buyers to a closed won deal a lot more quickly.