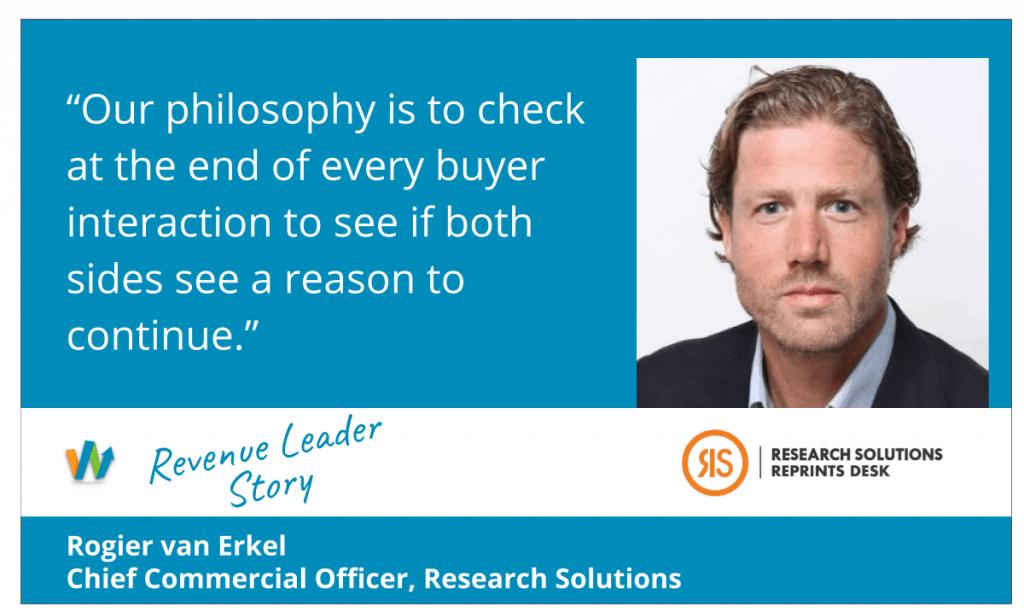 The most important part of any sales meeting is the last ten minutes.  Many sales meetings overload on product discussions or demos and then end abruptly with "Good meeting, thanks for your time, I will email you next week to follow-up."  The best sales meetings, in contrast, use the last ten minutes, with the buyer right there, to intentionally confirm what the buyer valued most in the conversation and outline next steps on both sides to move the conversation forward.
One team that has perfected this skill of closing sales conversations by confirming buyer value is the Research Solutions sales team under the leadership of their Chief Commercial Officer, Rogier van Erkel.
Research Solutions Philosophy? Ask Directly Whether a Next Conversation is Worthwhile
"Our philosophy is to check at the end of every buyer interaction to see if both sides see a reason to continue," says Rogier. "We will just ask directly during a buyer conversation or in an email – is it worthwhile to continue? Some people say this is crazy.  They ask Why would you give a prospect a reason to say no?  But, our experience is that by focusing on the customers most motivated to work with us we close deals more quickly, sell more to each account, and renew at higher rates."
Research Solutions flagship product is called Article Galaxy.  It provides researchers one-click access to scientific papers from any comprehensive literature search and then manages article content and references around their personal preferences.  The primary buyers are heads of research departments or libraries.
Prospecting with a Focus on Letting Buyers Self Qualify
"We let buyers confirm value and self-qualify right from the prospecting phase," explains Rogier. "Our most effective way to source new discovery meetings is to use regular marketing emails on key uses to see what engages a new buyer.  Heads of research departments or librarians are our most important users.  We 'drip' emails to these groups that focus on ease of accessing, storing, and collaborating on research.  Heads of IT or Chief Science Officers are our most likely funders and they want to see the financial case to purchase.  For these groups, we use drip campaigns that focus on the cost savings and time savings for sourcing articles from our platform."
In prospecting work, there is no direct way to ask a buyer what they value most or confirm interest in considering a product or solution.  Regular drip marketing around proven use cases and buyer value pathways is a great way to let new buyers confirm they are interested in a conversation.  Research Solutions uses regular drip marketing to then focus its outbound prospecting on already engaged buyers.
"We see which new buyers interact with our drip emails in some way," Rogier continues. "Then every Tuesday morning each member of our prospecting team gets a list of qualified prospects who have engaged with our nurture outreach to contact for initial discovery meetings.  This focus on letting new buyers confirm their interest has contributed to an 80% conversion rate from an initial discovery call to a group meeting."
Exceptional Results: 80% Conversion Rate from Initial Discovery Call to Group Meeting
Several years ago Aberdeen Research published a sobering study that said only 37% of first meetings had any kind of follow on meetings.  Our client work at Winalytics suggests that best-in-class organizations achieve 60% conversion from a first discovery meeting to a second meeting, so Research Solutions 80% conversion rate from first meeting to group meeting is truly world class.
"We get a very high conversion rate from a first discovery call to a group meeting for two reasons,"  Rogier says. "The first, as I just shared, is that we use our prospecting to effectively qualify buyers who are already a good fit.  The second is that we use the discovery meeting to get the buyer to lean into the conversation and confirm where to focus.  We clarify buyer goals, present our capabilities that align, and then we ask them directly to identify a personal win and a business win that would come from implementing our platform.  We basically ask them Do you see value in continuing?".
Perfecting the Art of Buyer Value Confirmation
Sellers do not close deals, buyers close deals.  The role of the seller is to guide the buyer to a close with the right questions – questions that surface a prospect's pain, turns it into potential value, and builds organizational readiness to purchase.  Through this process, the seller is continually confirming a good fit and value for the buyer.  Rogier and his team have perfected using buyer value confirmation to qualify and progress the right deals.
"The focus of our next conversation with a group is to turn the person from the first call into our champion and internal sales person," Rogier explains. "Before the group call, we ask the champion:  Who do we want to bring into the group conversation?  Why this group?  Will this group see the same areas of value that you see?  During the call we confirm the group's goal areas, show how we advance these goals and then ask the group: Shall we continue to a trial?  Do we agree on trial goals?".
At the Decision Stage, Translating Buyer Value to Meaningful ROI
For buyers in early discovery and active evaluation, Research Solutions uses value mapping and value confirmation to build agreement that its capabilities can help with the buyer's goal achievement.  As the buyer moves through active evaluation into decision-making mode, the focus of value mapping and value confirmation shifts to building agreement on the type of payoff that would differentiate Research Solutions from other options and justify a budget investment.  The purpose of the trial is then to produce evidence and show a path to this agreed-on payoff.
"When a buyer group has confirmed they see how we can help with their goals and confirmed the value of continuing, we then focus on scoping the right trial," Rogier says. "A pilot lasts only two weeks and never has more than ten people, so it needs to align directly to their goals.  Does the buyer think in terms of time savings with three less researchers a good outcome?  Or cost savings with a $10,000 reduction in article costs a good outcome?  If we map to their goal area, then we can close right after the trial.  If we don't map to their goal area, then it's like they are speaking English and we are speaking Chinese."
Account Expansion Around Fit and Value Delivers Impressive 99% Renewal Rate
For Research Solutions, this focus on introducing use cases around specific buyer goals and then asking the buyer "Shall we continue?" starts with Marketing and Sales, but continues into Customer Success.  Account renewal and expansion activities are all anchored around confirming where the customer is experiencing the most value.
"Customer Success is in a different organization than Sales and Marketing in our company," Rogier says. "However, they have the same buyer value areas, use cases and processes to deepen account relationships.  They use data in our platform to see which use cases are most important at each account and then reach out to share new functionality information and offer educational opportunities related to these areas of interest.  So, if a person is annotating a lot, Customer Success outreach may focus on new workflows for personal management of research.  Or, if someone is using the insights and reporting features a lot, our team will reach out about new administrative features that could be helpful."
Research Solutions' focus on letting customers continue to confirm where they see fit and value has led to an impressive 99% renewal rate and made renewals and upsells a key driver of growth.
The strategy of focusing on the use cases where buyers and customers see the most value  has helped Research Solutions achieve an impressive growth track record.   Research Solution has grown to US $32M in revenue with more than three million users at over 1,400 corporate, government and university customers.
How to Confirm Buyer Value in the Last Ten Minutes of Every Sales Call
Sales methodologies, like BANT or ANUM or MEDDIC, can make buyer value confirmation seem really complex.   But the Research Solutions story shows that, in fact, qualifying questions can be really simple, such as:  
Where do you think we can have the most impact on your goals and priorities?

Do you see enough value to continue the conversation?

Who do we want to bring into the group conversation?  Why this group?

Shall we continue to a trial?  What would be a good trial outcome?

Is this an immediate priority for you or your colleagues?  Or are just starting to look around?

Is this a funded initiative?  Or, is funding still an open question

?
Good qualification means asking your buyers directly at the end of every call about their level of interest and willingness to take action.  If you commit to using the last ten minutes of every sales conversation on buyer value confirmation, you will start to focus on the right deals and right next steps and close more.