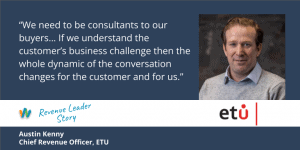 How do you keep your go-to-market team focused on a buyer's business outcomes?
Here is how Austin Kenny, Chief Revenue Officer at ETU, answers this question:
"We need to be consultants to our buyers. Our platform is very configurable and if we start with a general demo, we will lose a buyer quickly. If we understand intimately the customer's business challenge then the whole dynamic of the conversation changes for the customer and for us.
We have to guide buyers to a specific use case — even if they are unsure. We ask: What are you working on and thinking about? And then a best practice we use is to start with some use cases and see if we find a match."
ETU offers an immersive learning simulation platform to support a range of corporate training goals. Corporate learning & development (L&D) solution providers find it notoriously difficult to get L&D professionals to focus on a business case or build an ROI case.
ETU stands out for its success in bucking this industry trend by identifying and measuring very specific business outcomes. With IBM, they documented $13M in seat-time savings and a $5.6M program development cost reduction by scale, learning from 5,000 to 100,000 members of the IBM consulting team. With another professional service provider, they reduced risk and compliance issues with new recruits with 8 simulations. With Merck, they got L&D to have better conversations with their business unit colleagues.
I recently spoke to Austin about how he kept his team so focused on business outcomes. Here are his key practices:
Practice 1: Flip the Script on Buyer Conversations 
"Many sales teams focus their sales conversations on their product. They are quick to jump into a slide deck about their product capabilities or into a product demo. They lose the opportunity to really understand why the buyer is on the call and how they can best personalize each conversation."
"I want our team to hold back on the slides, to hold back on the demo," says Austin, "We should tell them what we do in 30- to 60-seconds and then open up a conversation about why they use simulations. We want to hear the use cases and business challenges they are thinking about, so we position on our customer stories. When they hear the stories, their confidence goes up."
Practice 2: Focus Onboarding on Customer Stories 
To anchor the importance of customer stories, Austin has also flipped the switch on his sales team onboarding. Most companies use onboarding for a deep dive on the company. A sales team member might, if lucky, get a deep dive on customer stories after three or four months in the role. Not at ETU.
"From the very first day of onboarding, we start on customer stories," says Austin. "We want them to understand the product through the lens of customer application. We want them to quickly understand the most compelling stories for each business use case."
Practice 3: Continually Reinforce Business Outcomes 
A final practice is facilitating bi-weekly, cross functional go-to-market team sessions that continually reinforce a focus on the importance of business outcomes. The sessions cover a range of topics from new customer stories to specific stories being used in new or upsell sales conversations, to updates and simulations, to better align to use cases. All focus on things that have gone well or opportunities to improve in speaking to business outcomes.
The sessions include the sales and account management team, the business development representatives, and the marketing and the product marketing teams. The COO also joins in as appropriate. The CEO joins almost every session as a way of highlighting to the extended team the importance of always staying focused on business outcomes.
Watch some of Austin and Brent's conversation here!