Link content to buyer value across the buyer journey
The typical purchasing process now involves 6+ deeply informed buyers and less than 20% of the entire purchasing process is spent in direct communication with vendors. This leaves companies with a very narrow window to engage buyers.
In this environment content marketing is increasingly important to quickly communicate a company's value, impacts, and differentiation. However, less than 30% of B2B companies build their content marketing strategy around a clear buyer journey.
Winalytics Content Strategy Playbooks help a company's marketing, sales, and customer success teams cut through this market noise with content and a content strategy positions unique value and invites buyers into a value-added conversation.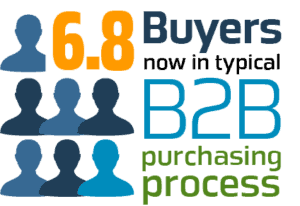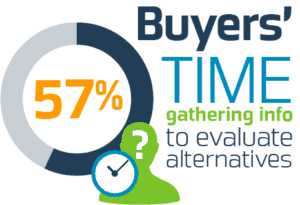 Sources: Corporate Executive Board
Playbook Tools
We help document your unique value by buyer role and market segment by organizing existing content marketing in content pathways around key buyer goal and then develop new written case studies, spoken success case and buyer insights.

Buyer Value Pathway
A buyer value pathway identifies the key buyer goals your company helps advance, specific business payoffs or impacts to advancing each goal and your unique capabilities and client success that show how you support goal achievement.

Content Pathways
Content pathways align all of your existing content marketing to specific buyer goals areas with content organized around a buyer's information needs at different phases of the buyer journey from awareness to evaluation to decision making.

Buyer Voice by Segment
Marketing teams drive faster when they work with customer success teams to identify top customers in each target market and partner with these top customers to identify segment-specific goals, messaging, and language that will engage other peer buyers.

Written Case Studies
Written case studies can be used to present the full life cycle of a customer relationship, the specific goals and use cases that motivated a partnership, the capabilities that lead to a payoff and testimonial to speak other similar buyers.

Spoken Success Cases
Spoken success cases can be shared verbally in a sales or customer success call to quickly build buyer engagement by capturing in two- to three-sentence the goals and payoffs achieved by a peer customer.

Insight Snippets
Quick summaries two-sentence summaries of your own or 3rd party studies is a great way to give buyers insights into the goals and challenges you help solve, demonstrate your domain expertise, and create a sense of buyer empathy.